About Us

RABBBR was founded in 2011 as a foster-based rescue. After years of working with other rescue groups, fostering, transporting and volunteering our Co-Founder, and President, decided to join forces with other bully breed owners and advocates to help the abused, neglected and abandoned bullies in the Central New York area. As a group we understand that there are a lot of misconceptions when it comes to the American Pit Bull Terrier and because of this, these wonderful dogs are overlooked.
We aim to be an advocated and voice for these dogs that cannot speak for themselves.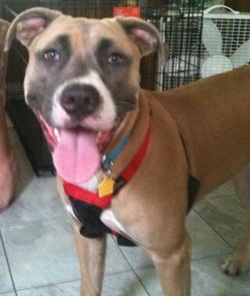 Kolby was the dog that started it all for RABBBR.
The President and Co-Founder drove to NY ACC
to save him from euthanasia!


---
Our Mission

Our mission is to rescue and rehome neglected, abandoned, abused and unwanted pit bulls and pit bull mix dogs in the CNY area. To educate the public about responsible dog ownership, the importance of spaying/neutering and disproving myths of this misunderstood breed of dog.



Our Vision

* To see the negative stereotypes of pit bulls change
*To see the number of pit bulls euthanized decrease
*To see the number of pit bulls in shelters decrease
*To see more pit bulls in family homes where they belong!



Donations can be mailed to:

PO Box 195
Clay, New York 13014


A Special Thank You to Our Sponsors


Dog Daze Pet Shop has a large variety of dog and cat foods, free of artificial preservatives and by-products, are made with wholesome ingredients and are used by our own pets and our customers' pets each and every day.




They are committed to every part of your animal's life. They offer organic treats, dietary supplements, shampoo's, comfy beds, and durable toys to complement your pet's health and well-being. Owners Ruth and Dave are huge pit bull lovers and advocates. They are located at 309 S. Main St. North Syracuse.


Please visit their website at http://dogdazepetshop.com




Barks & Rec Doggie Daycare is located at 8098 Brewerton Road in Cicero. Your dog will experience a great time filled with exercise and socializing with other dogs. While you are at work, or out of town let your dog enjoy the day at Barks & Rec. Visit their website at http://barksandrec.biz for more information.